Are you planning the most important day of your life? Are you looking for ways to amaze and surprise your guests? Along with an amazing day, every bride and groom wants happy guests. Check out some of these ideas. They are sure to amaze your guests!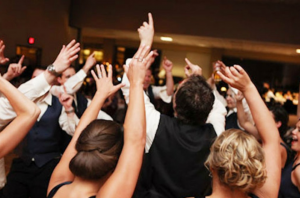 Menu and cocktails
Have you ever gone to a wedding and have been served food you don't really like? As a bride and groom you want to serve food everyone will like. This can be difficult but if you have a variety you can be sure there is something everyone will enjoy. One idea is to offer salads. This sounds plain right? Now, what if your guest could choose the toppings? You can offer toppings such as shrimp, chicken or steak. Make sure you also have things like cheese, olives, cucumbers, tomatoes, ect. You will also want to keep a variety of dressings available. This makes it convenient if you have guests that are vegetarian as well. Of course you will want offer other dishes to go along with the amazing salads. Things like pasta salads, cottage cheese and fruit salads go great with these meaty or vegetarian salads.
If you are looking for something with more options you can always go buffet style. Remember any food can look elegant if it presented right. If you choose this route be sure to offer a couple of different meat choices such as shrimp and steak or chicken and pork. Also you will want to be sure you have plenty of side dishes available.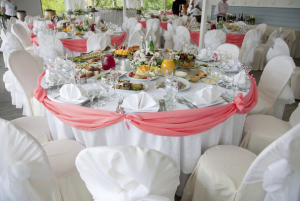 When it comes to the drinks you serve you will again want to keep the options almost endless. One idea is to have an open bar. This will be sure to "WOW" your guests. You can serve a signature cocktail. This could be a cocktail of your choice that would be free to all guests. Adding garnish to any cocktail will give it a more elegant look as well.
Don't forget about the kids! you can offer lemonade and water to the kids. You can spice up these drinks too. Put them in glass gallon drink dispensers and add lemon to the lemonade. In the water you can add mint leaves. The kids will love these drinks and you can still keep the elegant look!
Gifts for your guests
When you get married your guests bring you gifts (check these top gifts for her here) but they usually don't expect to receive gifts from the bride and groom. This will definitely amaze your guests on your wedding day! You can buy plastic cups with plastic straws and put a can of coke or Pepsi in them. Then tie a single shot of Jack Daniels or Crown Royal to them. Place them at each place setting for your guests. You can do the same for the kids expect put a can of Sprite or fruit flavored soda in the cup and leave off the alcohol.
Enjoy your wedding day and keep you guests happy and amazed!
A wedding is a special day and is a time when people create memories. To capture these memories a professional photographer is often called in. There are some tips to help a couple find a great wedding photographer to capture their special day.

Select a Style
When looking for a photographer be sure to decide on the photography style for the wedding. A couple has to decide if they are looking for still poses or looking for a photographer that is going to create live movement. Also the couple has to decide if they want their wedding photos to focus on people, decoration, or action. Many photographers would rather shoot people that are in action rather than have them stair at the camera. This will capture some special moments. A traditional photographer will take portraits of the people in attendance which many people are used to seeing. There are a number of different styles and a couple should hire a photographer that is going to meet the look that they want to achieve.
Do Some Research
When a couple looks in the phonebook or performs
an internet search there will be a couple hundred listings for a photographer that appear. Be sure to check out their websites and see examples of photos they have taken. Once a couple finds a photographer they are interested in they should check customer reviews to see if former customers have been satisfied with their work.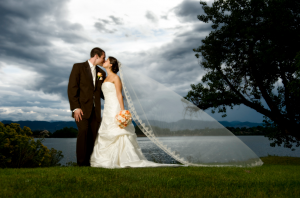 Make a Match
When deciding on a photographer their work is important. Their personality is also important. A couple should make sure that their personalities match and the photographer is someone they can get along with. Some of the photographers may be outgoing while others may be a little timid. When they approach a person they should do so in a respectful manner. The photographer should also respect the wishes of the guests if they choose not to be photographed. They should seek out the perfect moment for a picture instead of being assertive.
These are just some tips to helping a couple find a great photographer for their wedding. In addition to professionalism the photographer should be easy to get along with and capture the special moments for the couple.